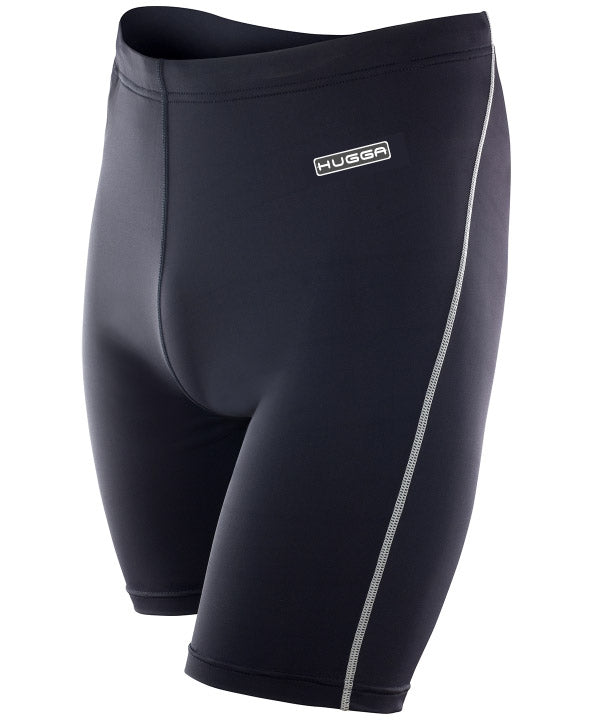 250SF Women's base bodyfit shorts
Super lightweight base layer shorts with high performance, breathable fabric for comfort and fit.
Breathable. Extremely lightweight. Comfort fit. Flat lock stitch side seams. Elasticated waist band and drawcord. Quick dry treatment performance fabric with added moisture fast wicking control keeps skin cool and comfortable. Contour fit panels with contrast stitch down leg. Micro stretch soft athletic fabric. Reflective back leg detail. Inner key pocket. Ideal layer garment for warm up.
One Colour: Black
Fabric 80% Polyamide (Nylon), 20% Elastane
Weight 200gsm
Size XS/S 8/10 M/L 12/14 XL/2XL 16/18
PLEASE NOTE: All Hugga sportswear is made to order & will be delivered in four weeks or less. Please see delivery for more details.
(A) CHEST
 – Circumference of the chest at the widest point
(B) WAIST
 – Circumference of the waist at the thinnest point
(C) HEIGHT
 – Full height from bottom of foot to top of head
NB. PLEASE ORDER A SIZE UP IN LYCRA IF LONG BODIED FROM HIPS TO SHOULDER. JUNIOR FIT IS BASED ON MENS FIT. WE ARE HAPPY TO PRODUCE CUSTOM SIZES IN OUR LYCRA IF NONE OF THE ABOVE SIZES SUIT. PLEASE CONTACT US FOR MORE INFO. 
NB. PLEASE NOTE

OUR SPLASH JACKETS & GILETS ARE NOT DESIGNED TO BE WORN OVER HEAVY JUMPERS ETC

 - THEY ARE DELIBERATELY CLOSE FITTING SO THAT THEY CAN BE WORN IN THE BOAT.

PLEASE ORDER AT LEAST ONE SIZE UP

IF YOU NEED TO WEAR BULKY CLOTHING UNDERNEATH (EG. FOR COXING). PLEASE CONTACT US FOR MORE INFO. 
Hugga is a boutique manufacturer of sports apparel. All our high performance sports apparel is made to order from scratch. We aim to deliver everything in four weeks or less. We ship our orders through Royal Mail First Class.
Because we make everything to order, human error can occur once in a blue moon which can lead to a longer delivery time. Should this happen, we will endeavour to contact you to let you know when to expect arrival of your order. And, added to this, at certain times of the year it might take just a little longer than normal – for example over the Christmas holidays.
UK delivery is £4.95 per order. International delivery is £20.00 per order. Longer shipping times may apply for international orders. 
If you have any questions about Hugga delivery, please do not hesitate to contact us.
More from this collection